---
JESSIE ALBRIGHT
---
Discography

"Waiting Patiently"
Released in Jan 2014, Boston, MA
Studio Musicians Erik von Geldern, Steve Audy & Don Schweihofer.
​Mastering Engineer, Eric Oligney at Rarefaction Media.

---

"Jessie has a unique sound which is both fun and a little bit addictive! Much in the same way that Amy Winehouse, Adele and Norah Jones have left us excited and mesmerized you will feel the same way about Jessie Albright! A must have for any true lover of music!!!" (

iTunes Album Review,

T~Wrecks)

---

"Jessie Albright is every bit as talented as she is fun to work with: Phenomenal vocal range ... Outstanding songwriter ... Excellent stage presence ... Accomplished guitarist ... Consummately professional ... Genuinely humble. Jessie's the complete package."
​(Harry Joiner, LinkedIn Review)

---

Highlights

• Opener for Mothers Finest, July 2016
• Opener for Randall Bramblett August 2016
• Headlined first night of "Wire and Wood" Alpharetta Songwriters Festival, October 2016

​Performing at many other venues in the Greater Atlanta Area such as...
Smiths Olde Bar, MadLife Stage and Studios, Good Ol' Days, The Crimson Moon, Eddie's Attic & Red Clay Music Foundry.

Bio

Lead vocalist and rhythm guitarist Jessie Albright brightens up any stage with or without a spotlight. After melting hearts in the great frozen north of Vermont, Jessie has brought her unique sound down south. With a style ranging from cool blues to red hot rock, plus a decent side of funk thrown in, Jessie's music is the soundtrack to a good mood.

​Jessie graduated college with a degree in Jazz Vocal Performance and Studio Recording. She has been performing around Vermont and Massachusetts since age 16. Jessie moved to Georgia in 2014 after releasing her first studio album, "Waiting Patiently" which is now available on iTunes and Spotify.

"Jessie Albright & Foster Blues" formed in fall of 2015 and toured until late 2017 with influences from up and down the east coast. Patrick Foster is a true Fender bender and long standing member of the Atlanta Blues Society, Roy Frederickson slaps a bit of NY/NJ's uptown funk-you-up on bass, Tracy Campbell has been groovin' in the Chicago clubs, and you'll say "hallelujah" when Bob Jones let's loose that Philly Sound on keyboards. With Jessie's originals and their own spin on classic covers, they delight audiences in pubs, dinner clubs, and township amphitheaters.
​
---
Social Media
---
Booking
Powered by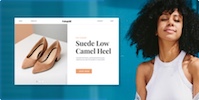 Create your own unique website with customizable templates.